A series of master planned subdivisions make up the unincorporated community referred to as Copperfield. Friendswood Development Company began development and sold the first houses in the community in 1979, which continued to grow throughout the 1980s and 1990s, continuing into the 21st century.
Easy access to great medical care is available at the North Cypress Medical Center only minutes away, and Copperfield residents have access to the 10-acre community center and community park on Willow River Drive as well as parks and a recreation and/or pool area in Northmead Village and Hearthstone Park.
Fortunately, there's no need to travel into Houston when you need help with hearing better. Our industry-leading audiologists here at home focus on your long-term hearing health and understand your personal circumstances. Our special brand of personalized care has been a critical part of the hearing care we've provided our Copperfield patients since we first started providing hearing care at our Tomball clinic.
Clarity Hearing's Dr. Scott Marquardt and our leading team of audiology specialists focus on the communities we serve, providing the most advanced technology available in the industry, accurate hearing assessments, tinnitus, balance, and other forms of custom hearing care. We also do the little things, such as earwax removal, hearing aid repair, and tele-audiology, to serve your needs in Copperfield and nearby communities at our Tomball location.
Request a Callback
Have a question? Our experts will call you back to answer any questions that you may have.
Jaime Hawkins is wonderful! When she said I was an excellent candidate for hearing aids, I was surprised. I'll never forget when she fit me with my first pair of Resound hearing aids, I cried! What a difference they've made for my life! Thank you so much Jaime!
Super nice staff and audiologist. I was given all the info and results of my hearing test at the end of my appointment. They make you feel at ease with a very welcoming atmosphere. A very good experience for something I was a bit nervous about.
Took their time to explain options; did not push higher end hearing aids but made clear the differences in models. Also explained a lot about hearing problems in general -- helpful for someone getting hearing aids for the first time. I highly recommend this company.
11439 Spring Cypress Rd,
Unit B, Tomball,
TX 77377
Wednesday: 9:00am – 5:00pm
Small, Lightweight Hearing Aids That Go Unnoticed
Thanks to micro-digital technology, those old hearing aid stigmas are a thing of the past. Just like it changed cell phones into the powerful smartphones we use today, it also transformed the bulky, frustrating hearing aids your parents and grandparents wore into smaller, lighter weight, and far more powerful devices, eliminating the outdated stigmas associated with hearing aids.
Features of modern hearing aid technology include rechargeable batteries, noise reduction/cancellation, remote programming capabilities, and the capacity to stream music, audio, and phone calls directly into your hearing aids from your smartphone, television, or PC, enhancing your hearing experience.
This highly advanced technology not only amplifies your hearing, but it also has the potential to amplify your life. Better yet, the hearing aid specialists at Clarity Hearing will help you choose from a wide range of models from the most renowned hearing aid manufacturers from all over the world.
Treatment for Dizziness, Vertigo, and Balance Disorders
Dizziness, vertigo, and difficulty remaining steady on your feet tend to decrease your confidence when it comes to leaving the house in order to go about your daily living tasks. Issues related to balance are often connected to problems in the inner ear, causing concern for your Clarity Hearing audiologists.
Your vestibular system, located within your inner ear, is a major part of the sensory system designed to provide your body with the information it needs to make adjustments and keep you upright. As audiologists, it's our job to figure out what's going on and provide you with treatment options to help you keep your balance.
If you or a loved one is struggling with dizziness, vertigo, or balance disorders, it is crucial that you contact an audiologist for balance testing and treatment in order to limit the risk of a critical injury related to a fall.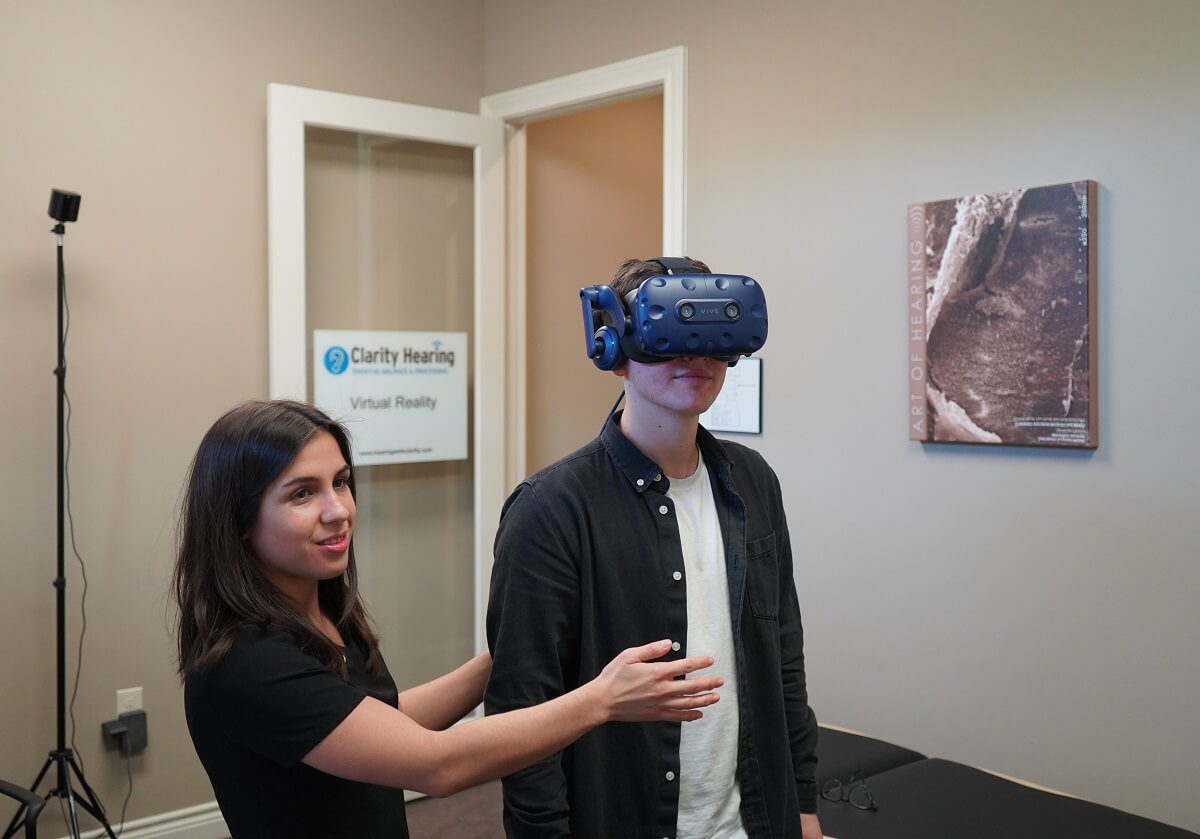 Are Your Hearing Aids Covered by Your Insurance?
Each insurance company and each package offers different levels of care and coverage, which adds to the confusion when it comes time to figure out if your hearing aids or hearing care is covered by your insurance.
We don't want anyone who is experiencing a hearing loss to put off getting the help they need from professional hearing care or from advanced technology hearing aids, but we also understand how discouraging it is to not be able to finance your treatment or determine if you'll get any help from your insurance.
Clarity Hearing partners with all the major insurance companies, including BCBS, Humana, Aetna, TriCare, Cigna, and Medicare, and we have an insurance specialist on our team to help find out what your insurance covers and how much benefit you can expect to receive.
Hearing Care from the comfort of Your Own Home
Traveling into town or across town to sit in a waiting room is never among our first choice of daily activities, nor is it always your best option or the most convenient in today's busy world. To overcome the challenges of health concerns, scheduling, and traveling issues, Clarity Hearing developed our tele-audiology service using tele-conferencing technology.
Regardless of the reason behind not being able to come in for an in-office appointment, such as scheduling conflicts, traveling issues, health problems, or because you're out of town, you can connect to one of our audiologists for a face-to-face consultation by using tele-audiology.
Whether you need technical support for your device, hearing care counseling and support, a first time consultation, or any other service we provide in our nearby clinic, you can reap all the benefits of the most convenient hearing care in our area by using your smartphone, laptop, or PC and tele-conferencing technology to connect with us.
If you would like one of our expert audiologists to call you back to discuss your hearing, a loved ones hearing or to ask any questions, then please complete this form to request a callback. Between appointments, you'll receive a call from our team within the next 24 hours (Monday to Friday).
Alternatively, if you require our immediate attention, please contact your local office directly.
Hearing Health Resources
Some of the Most Common Hearing Health Questions Answered by Our Experts